Tourism Marketing Projects
Bhutan Tourism Booth, ITB Asia, October 2019
Venue: at Sands Convention and Exhibition Centre, Singapore.
Appointed as Project manager to coordinate the design and construction of Tourism Council of Bhutan Booth at ITB Asia 2019.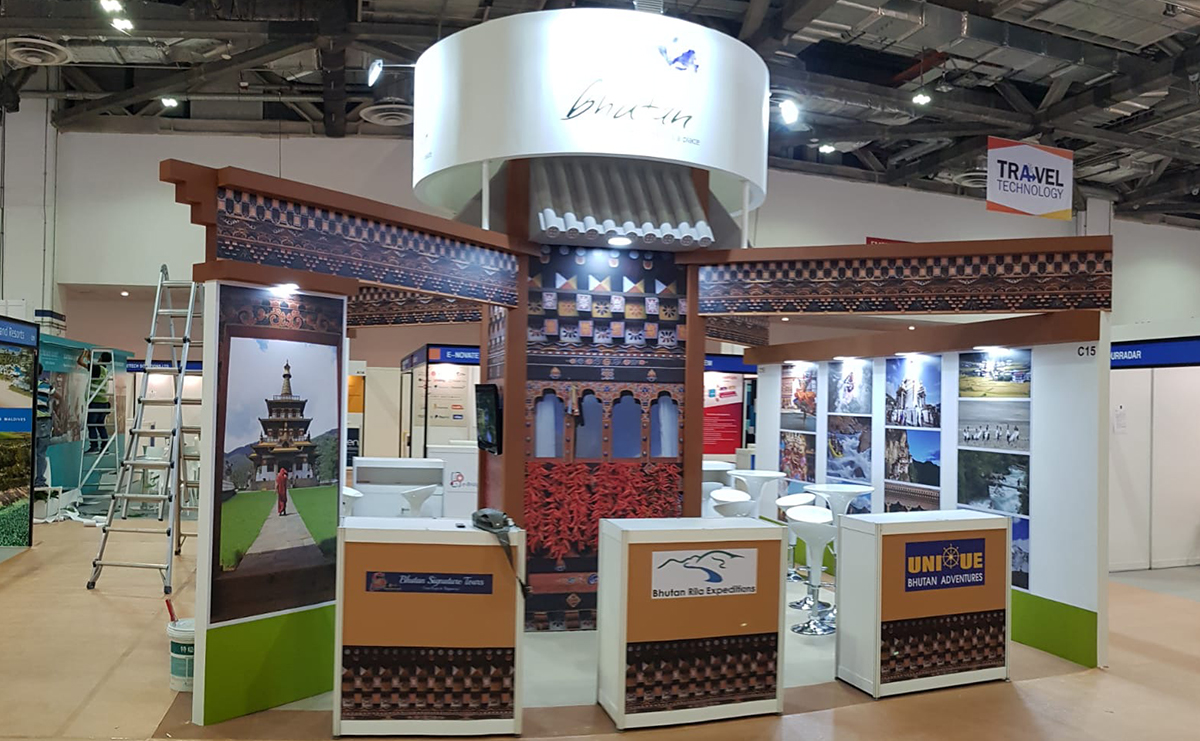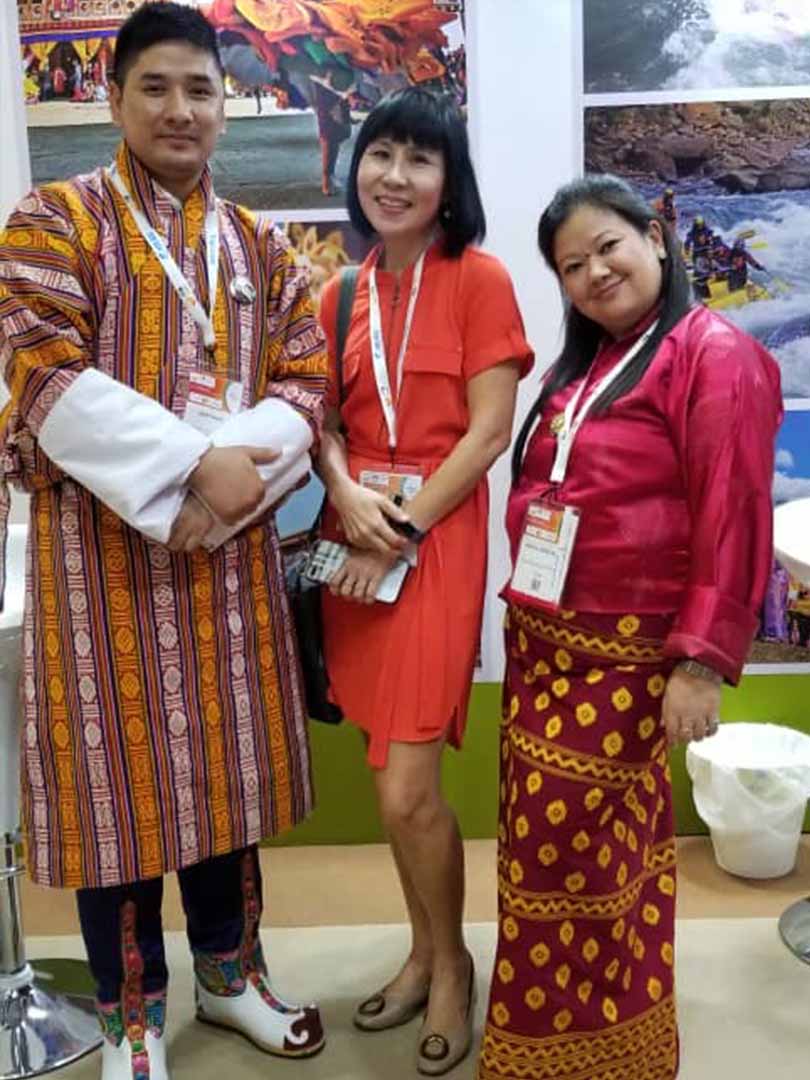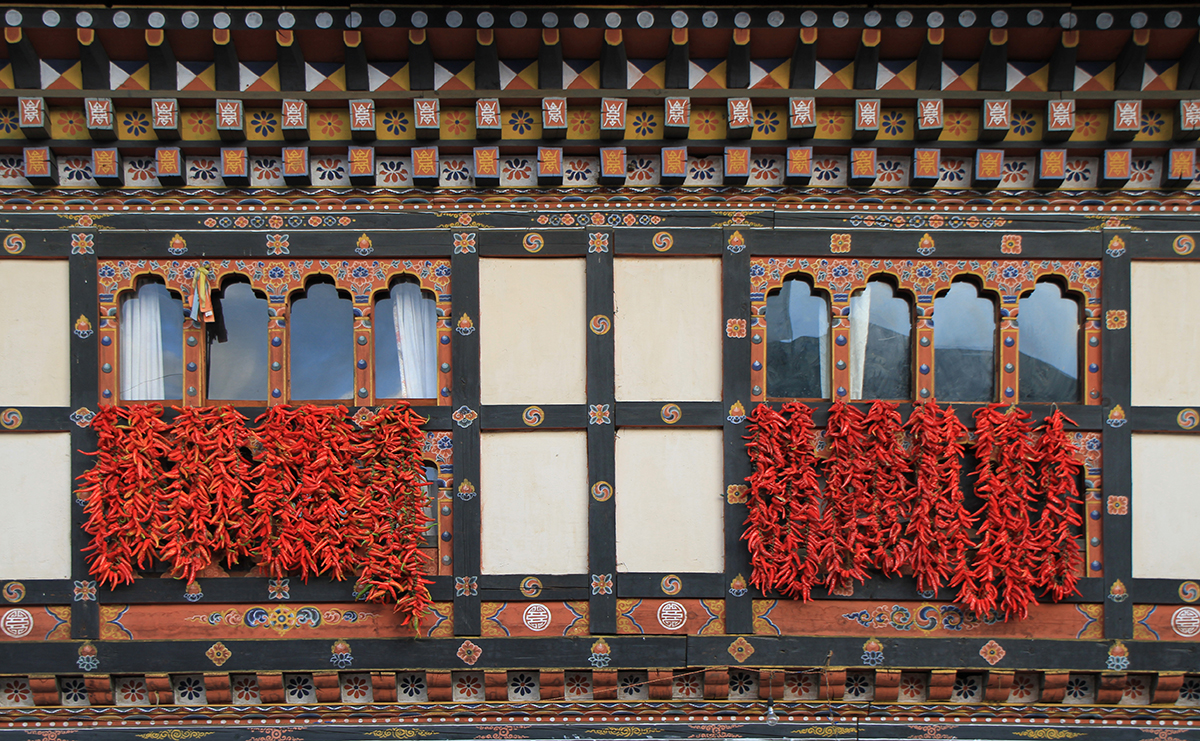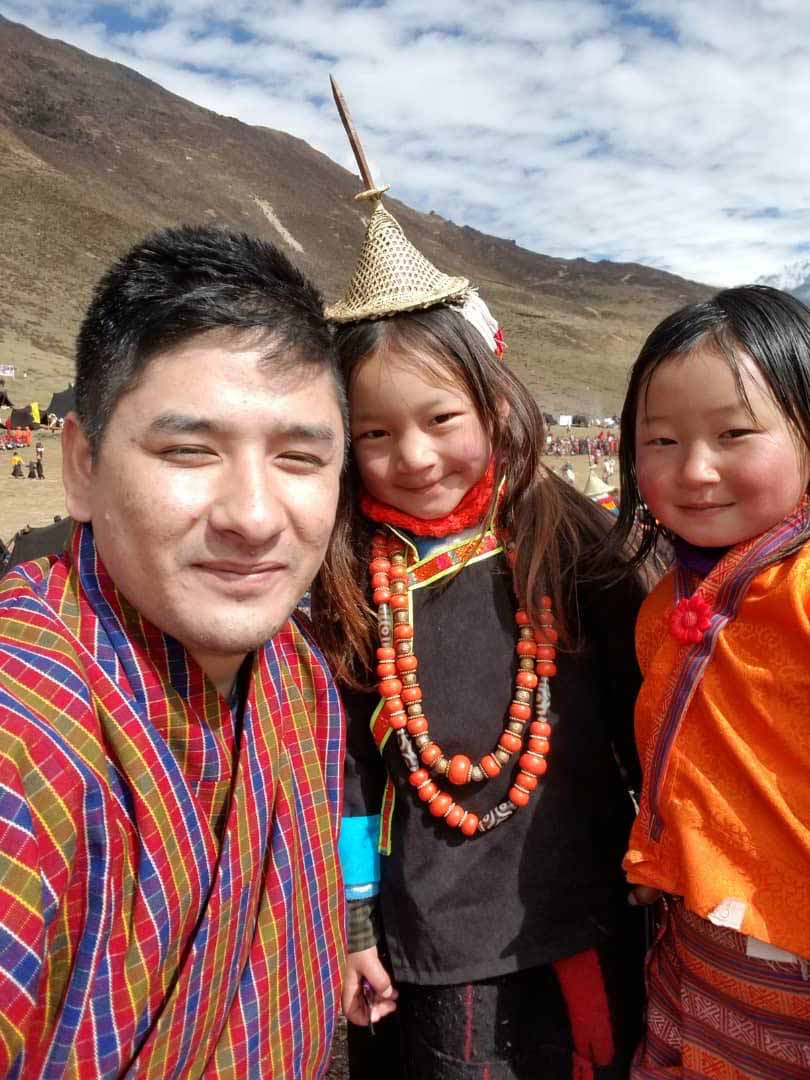 New York City Marketing Collaboration with Trafalgar Singapore, October 2019
Venue: Marina Bay Sands Convention Centre
Promoted New York City to 300 Trafalgar VIP customers with Trafalgar Singapore and their retail travel agents with value-add deals and presentation.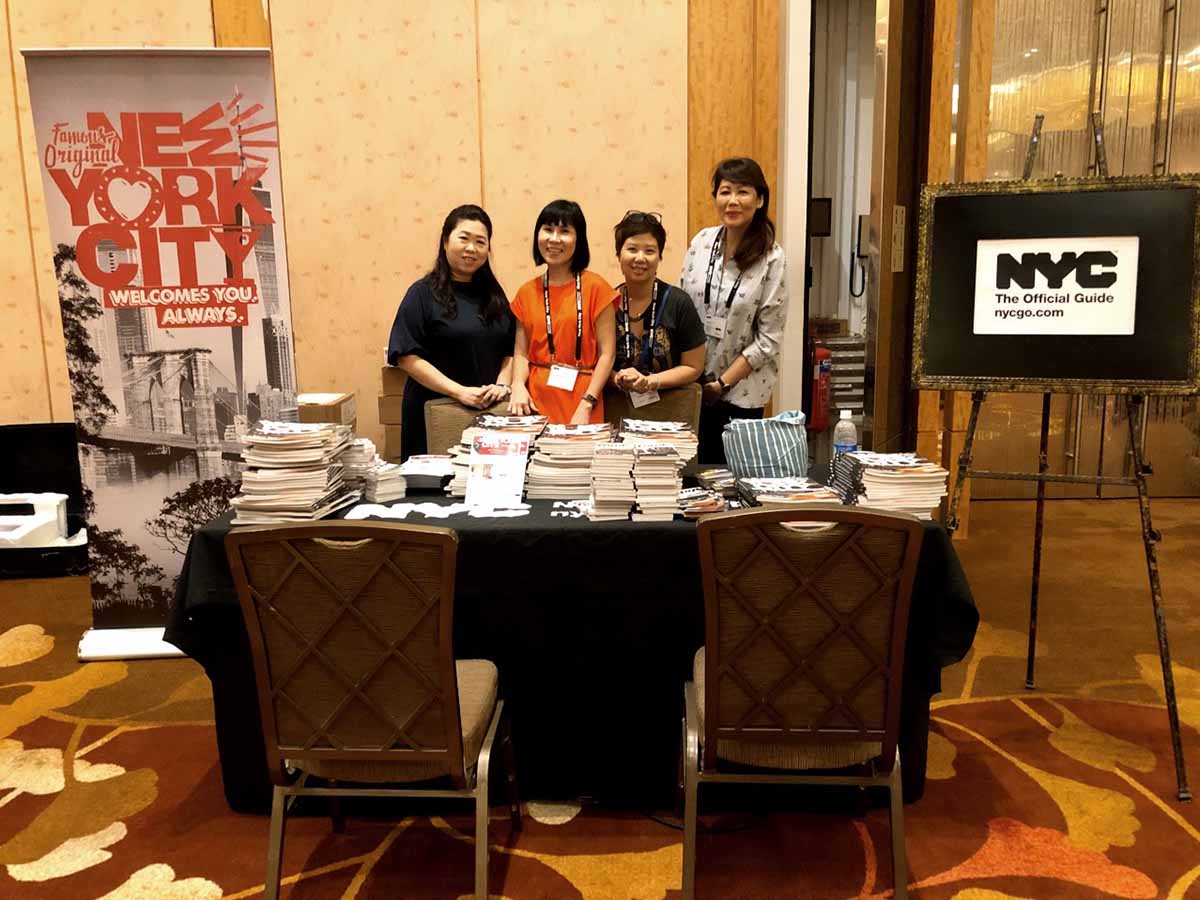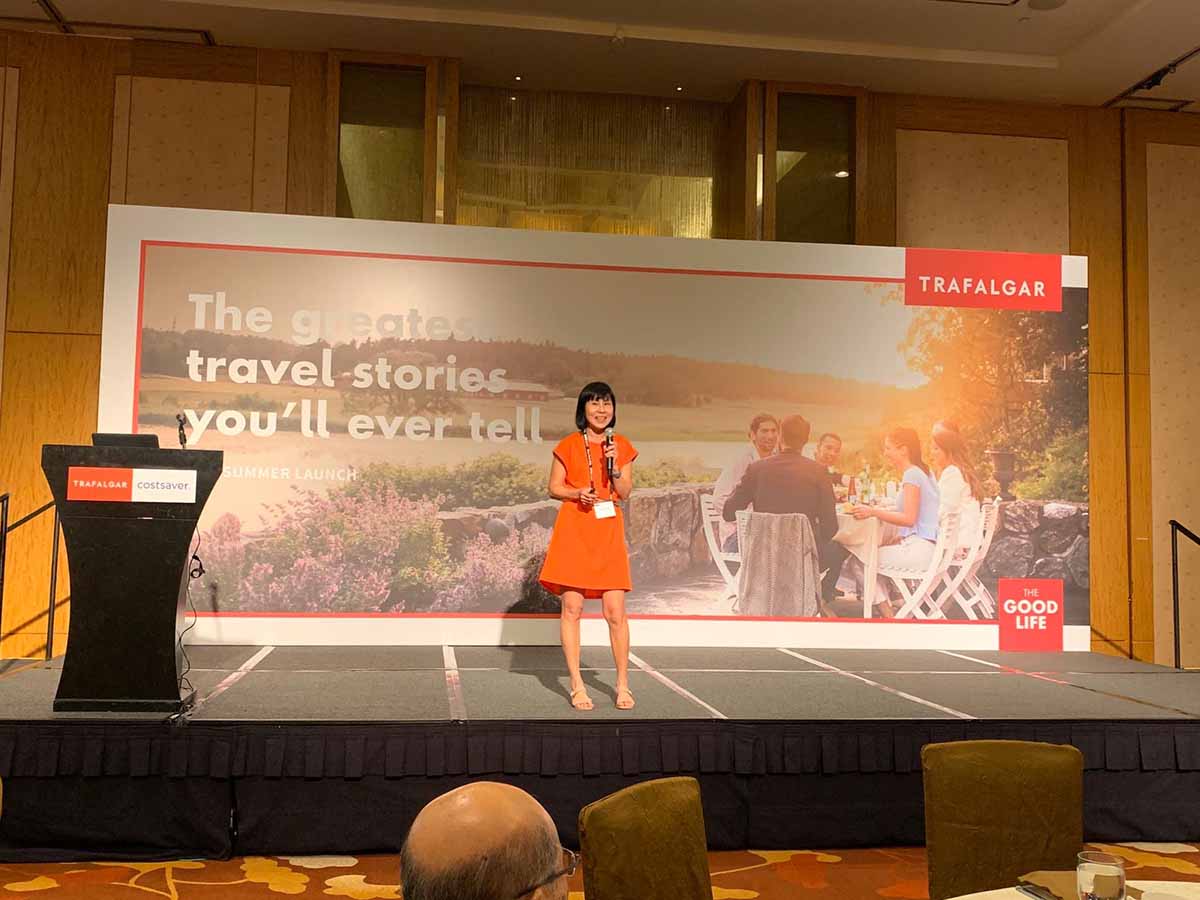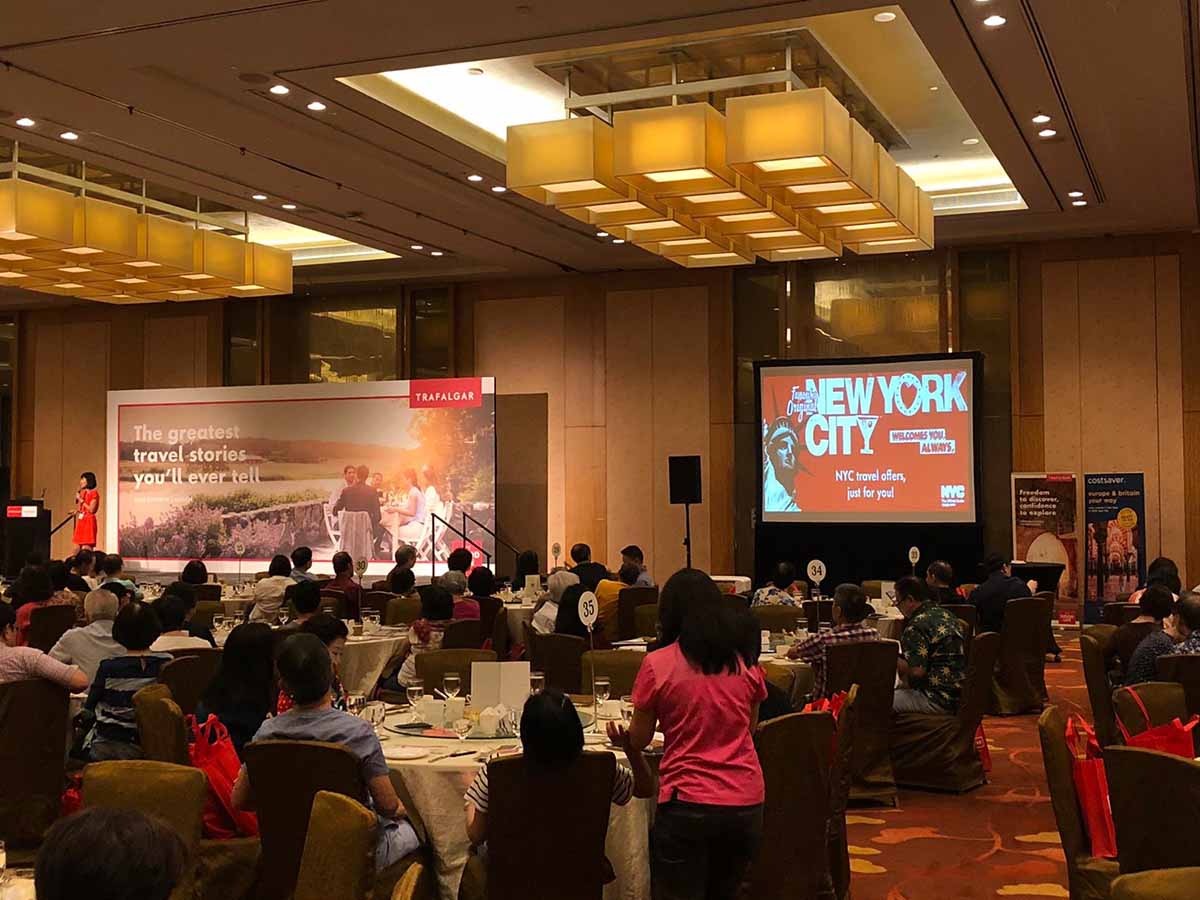 City of Swan – Swan Valley Unearthed, Singapore, April 2019
Venue: The Open Farm Community, Dempsey
Attendance: 70 guests from media, travel trade and food & wine trade
Event PR Value generated: A$50,000
Appointed by City of Swan, Western Australia as Project and Event Manager. Managed the Trade and Media on 2 April 2019. Strategized and implemented the Swan Valley Unearthed Consumer Marketing Campaign, including Above the Line Advertising through the SPH integrated Marketing Media Platform and Consumer Contest.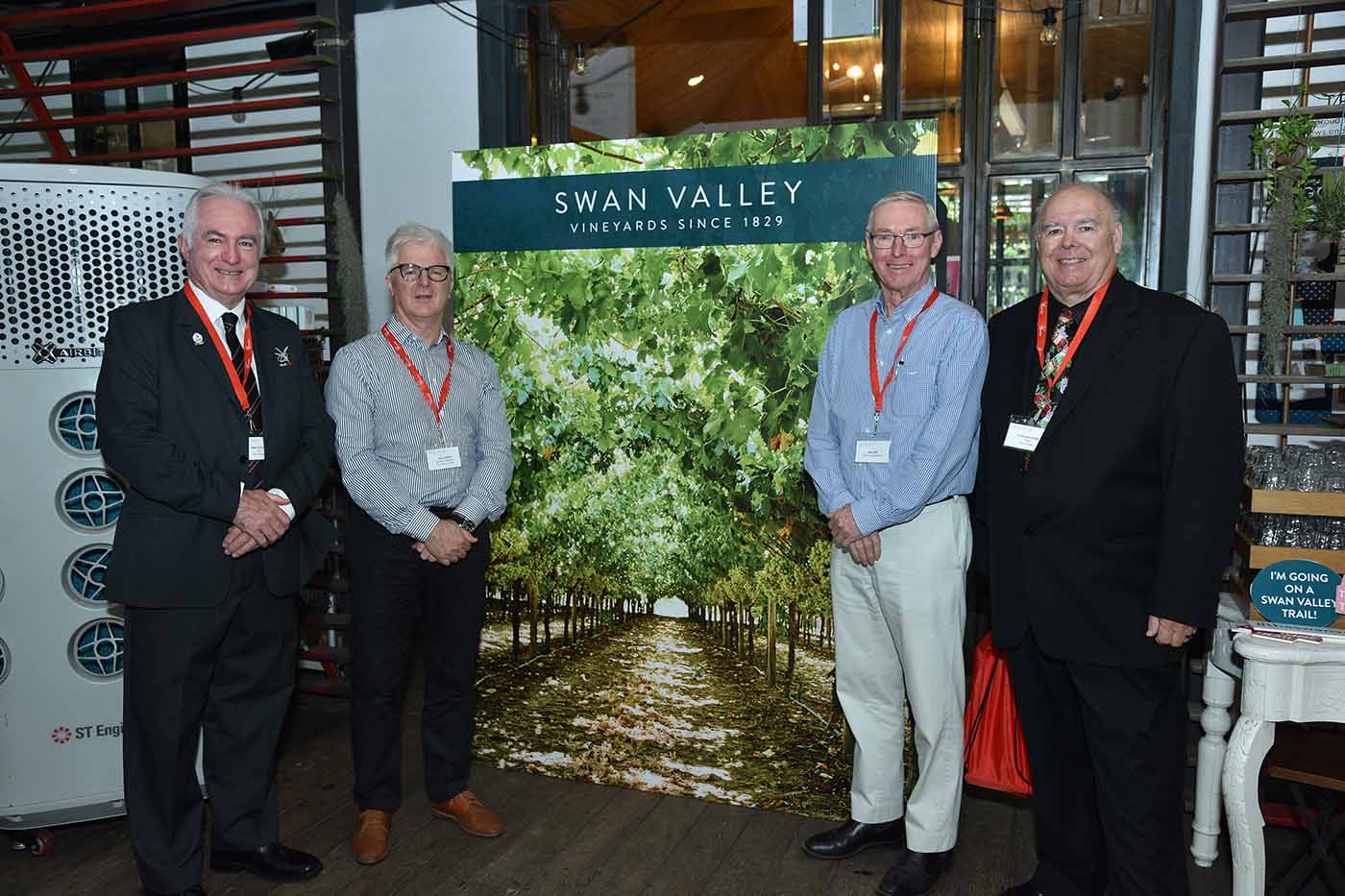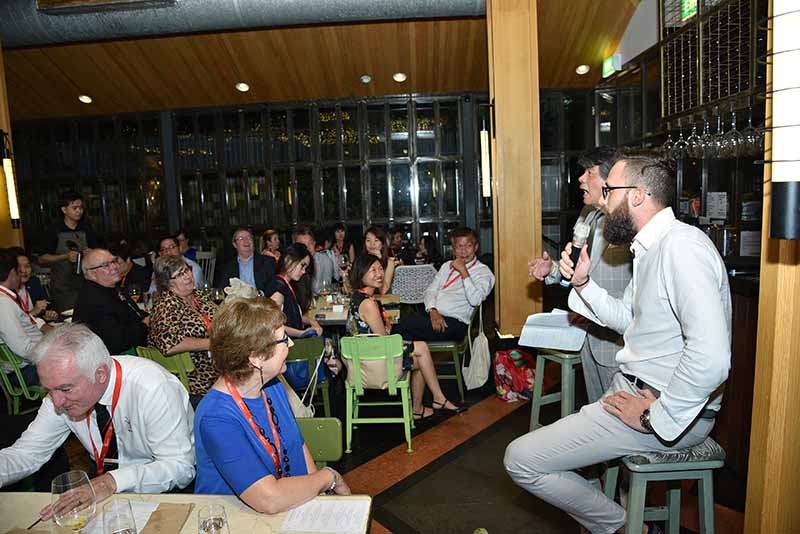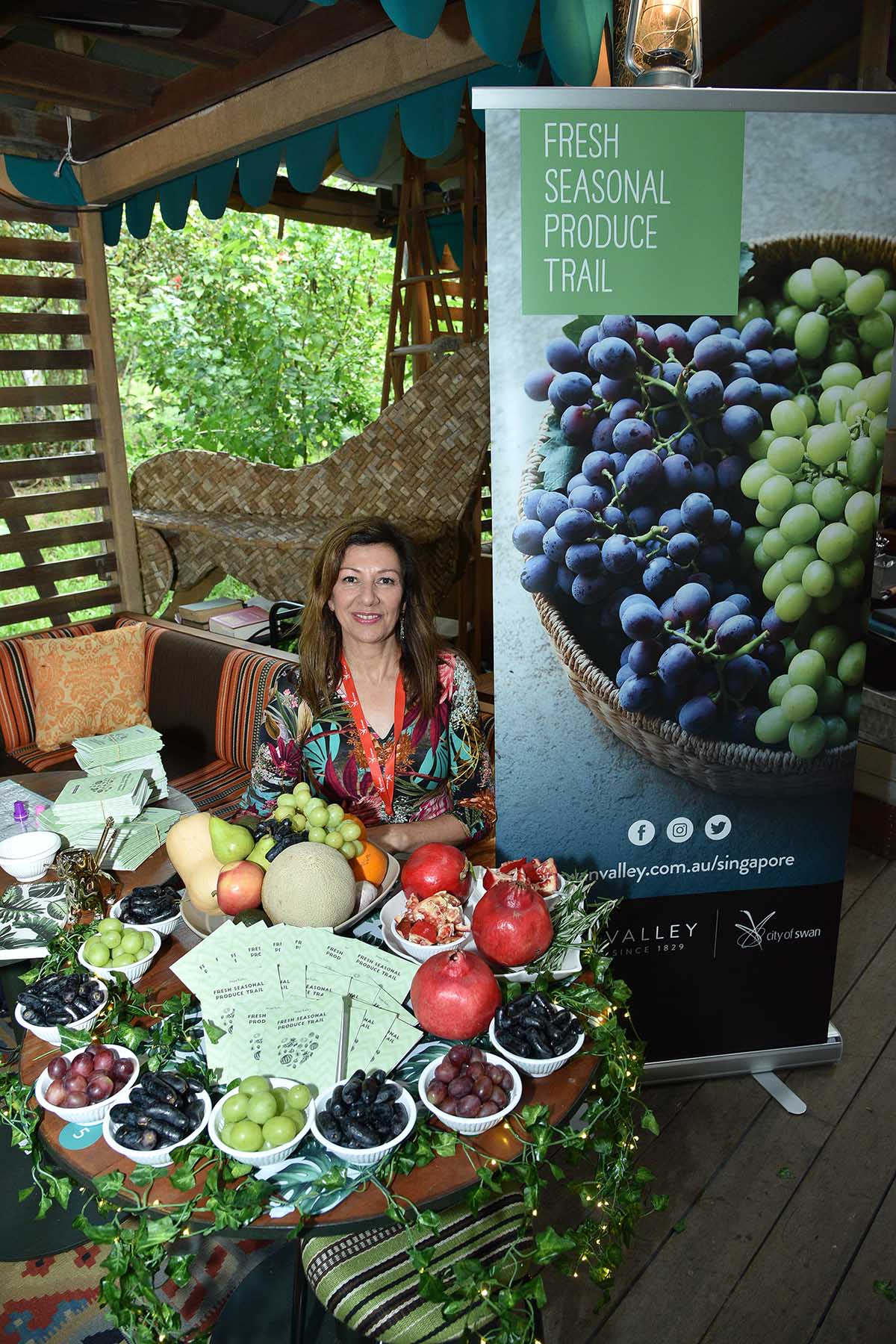 NYC & Company, ITB Asia and IMM Asia, October 2018
Represented NYC & Company as their appointed South East Asia marketing representation office at ITB Asia 2018 and IMM Asia 2018. Managed all business and media appointments, in partnership with NYC & Company Head Office senior management and New York City tourism members. NYC & Company is the official marketing organization for New York City and its 5 Boroughs.
Venue: Sands Convention and Exhibition Centre, Singapore.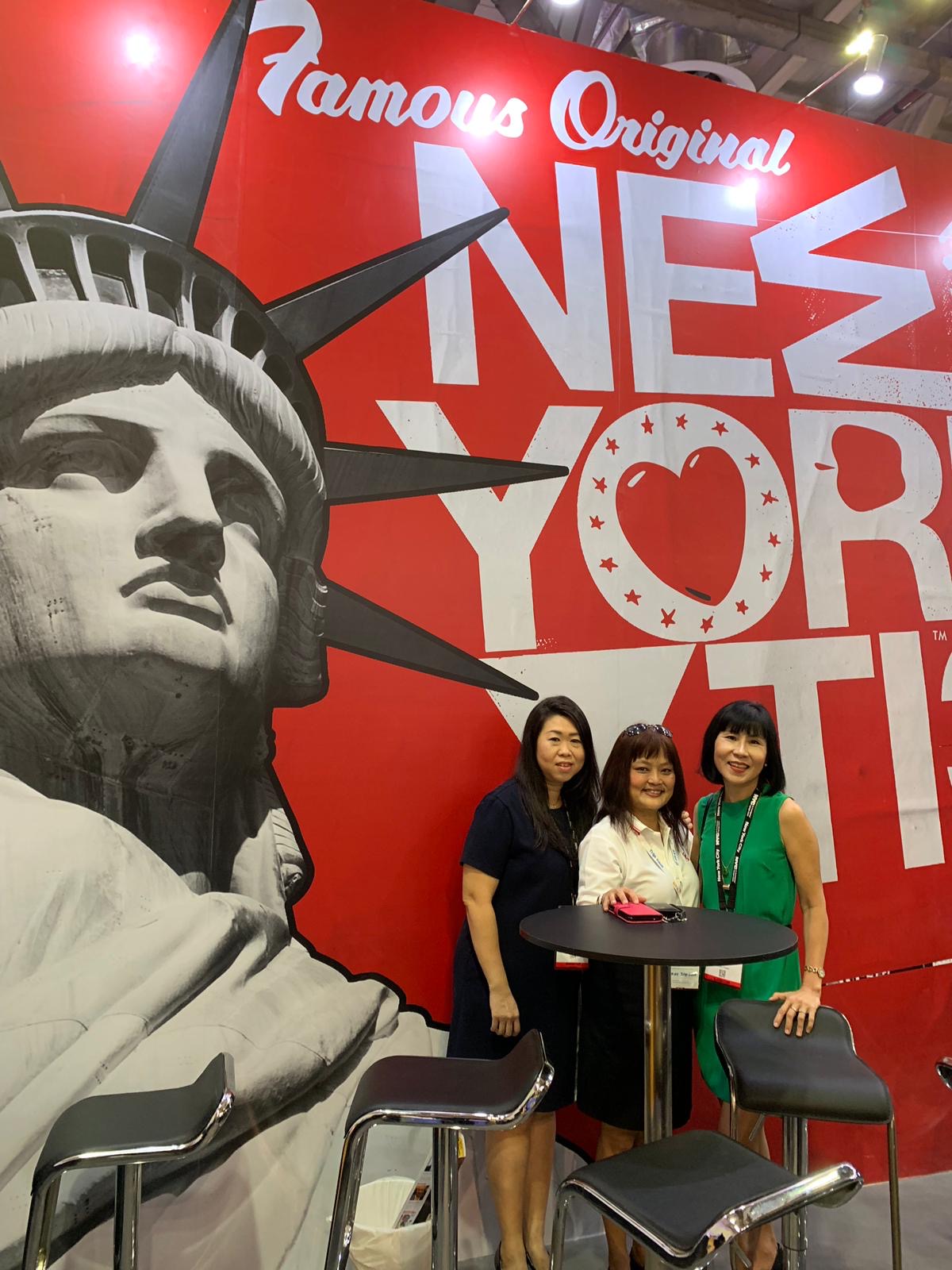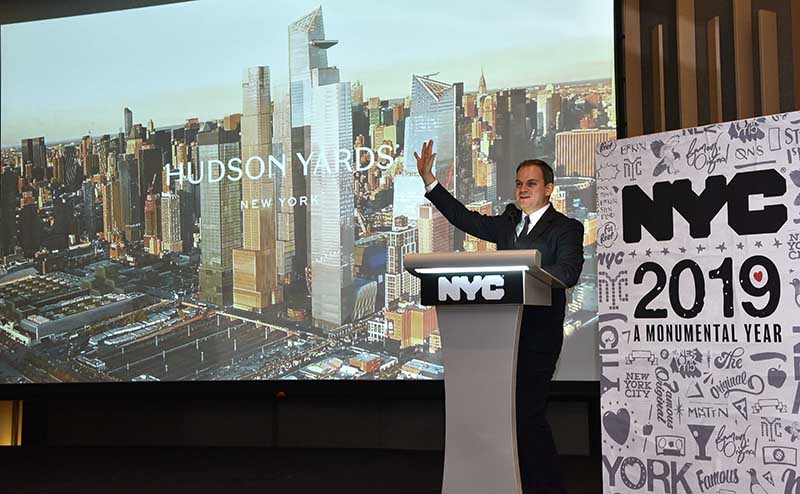 Tourism Fiji Asia Dive Expo, April 2018
Dive into Happiness in Fiji!
We successfully coordinated and managed Tourism Fiji's participation with some of Fiji's best dive resorts in this edition of the Asia Dive Expo (ADEX) 2018 @ Suntec City, Singapore. It was an excellent showcase of some of the world's top diving spots, beautiful rainbow soft corals and spectacular marine encounters!
Market: Singapore
Dates: 6-8 April 2018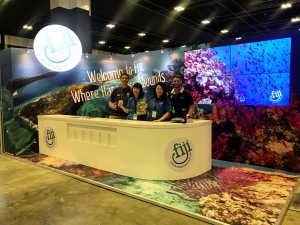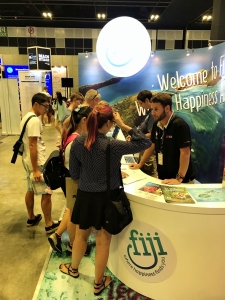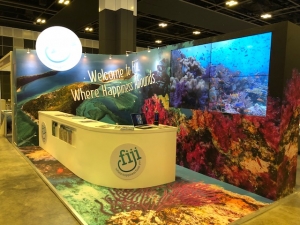 Tourism Fiji NATAS  and Travel Revolution Consumer Travel Fairs, March 2018
Successfully managed Tourism Fiji's participation in two travel fairs, NATAS @ Singapore Expo and Travel Revolution Fair @ Marina Bay Sands Convention Centre.
Market: Singapore
Dates: 23-25 March 2018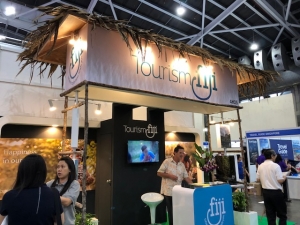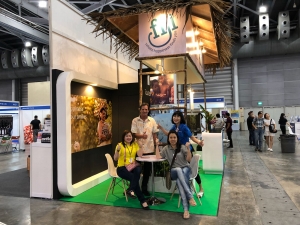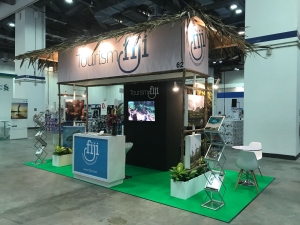 Tourism Fiji NATAS Consumer Travel Fair, August 2017
Market: Singapore
Partners: Fiji Airways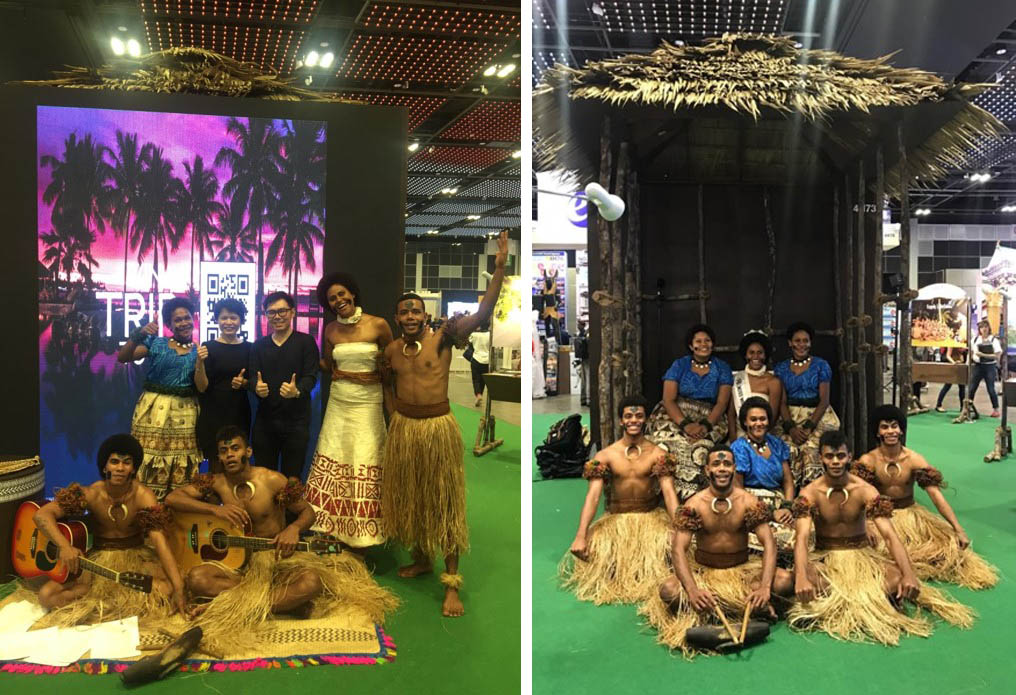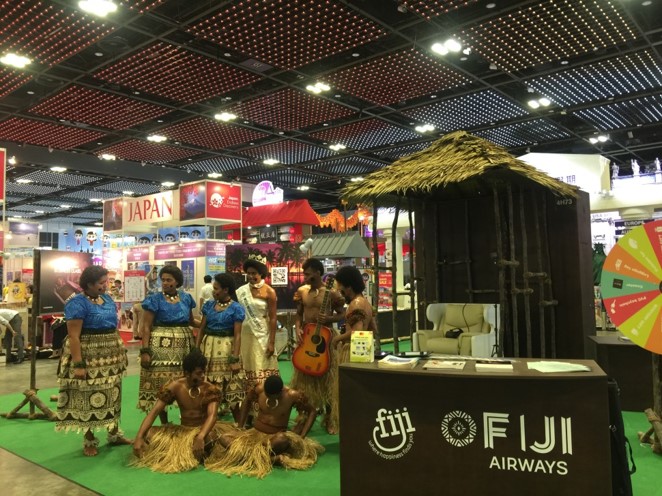 Fiji, Where Happiness Abounds! Oct – Dec 2017
Market: Singapore
Integrated Brand and Tactical Marketing Campaign
Media: Print, Radio, Digital, Social Media
Partners: Fiji Airways and travel agents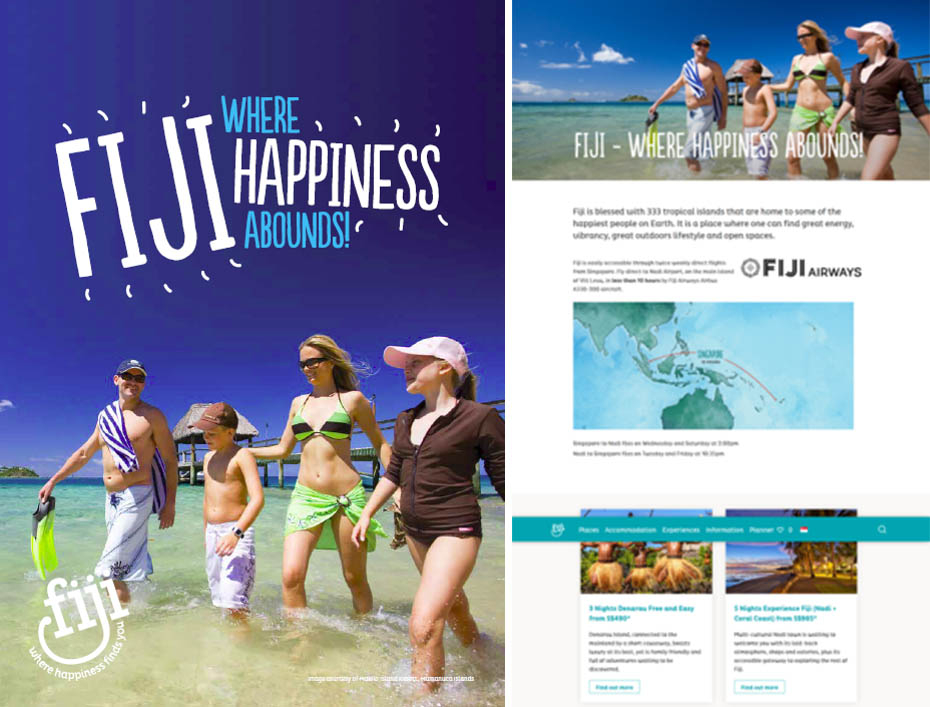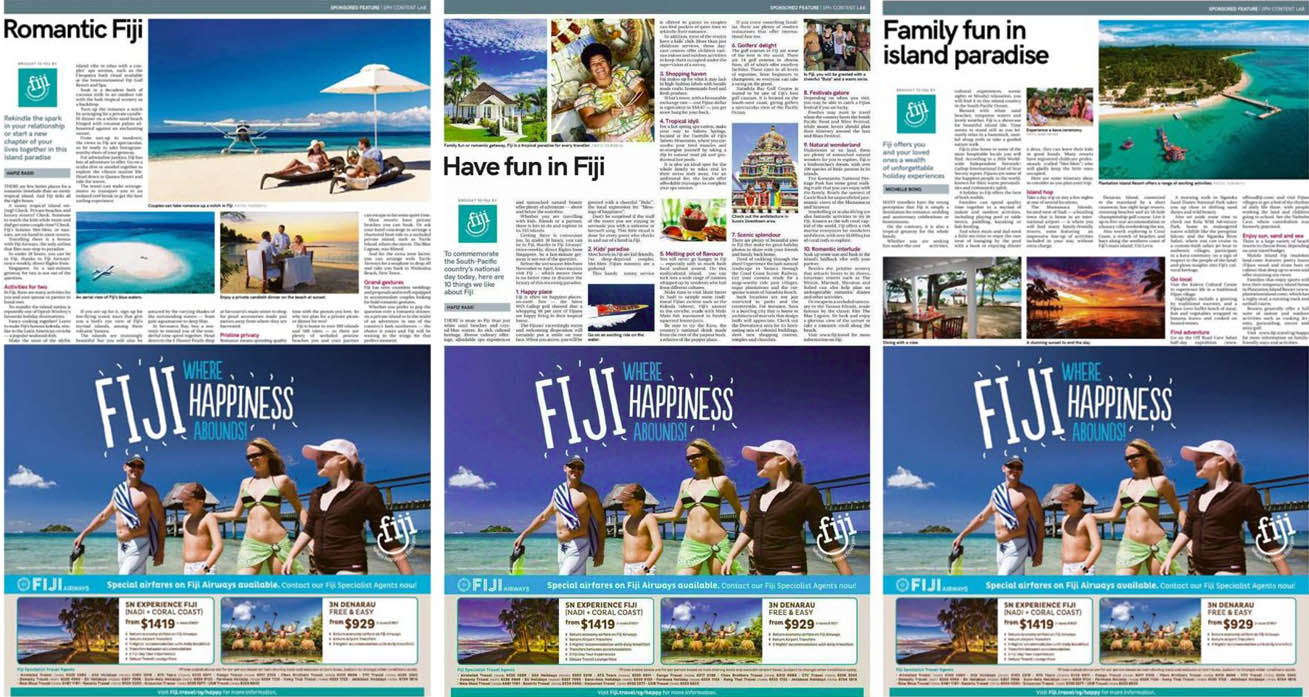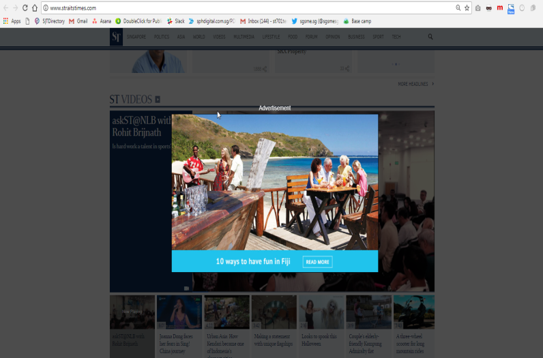 SWAN VALLEY UNEARTHED CAMPAIGN, SINGAPORE,
FEB 2017
Campaign Elements
Advertising – Print and radio
Consumer Contest
Media Exposure and PR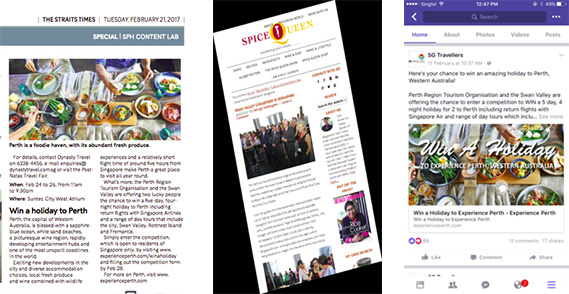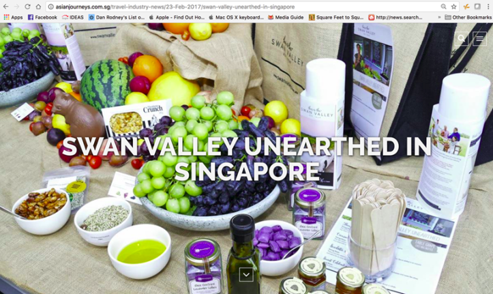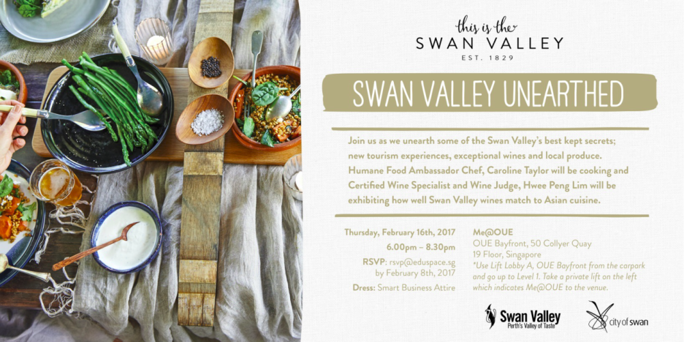 Western Australia Experience Extraordinary Aquatic and
Coastal Self Drive Campaign, 2016
Markets: Singapore and Malaysia
Integrated Brand and Tactical Marketing Campaign
Media: Print, Radio, Digital, Social Media
Partners: Book Publisher, children book author, travel agents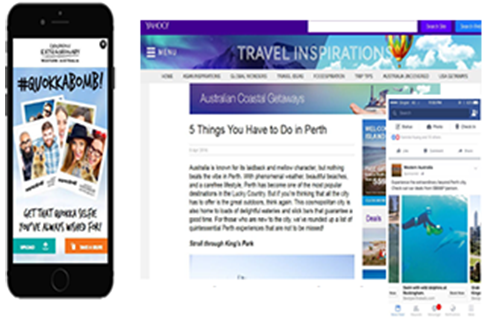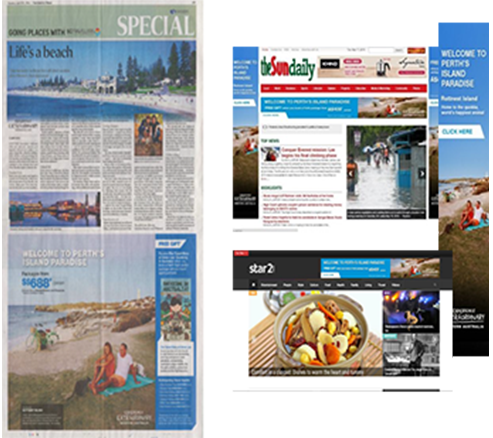 Western Australia Gourmet and
MARGARET RIVER GOURMET ESCAPE CAMPAIGN
AUGUST- NOVEMBER 2015
Campaign Elements:
• Advertising – print, broadcast and digital media
• Collaterals
• Consumer Contest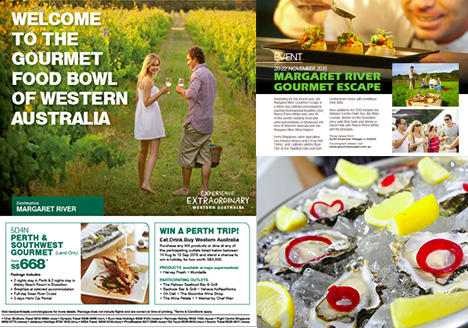 WA Caravan and Camping/ Self Drive Campaign,
2015
Markets : Singapore and Malaysia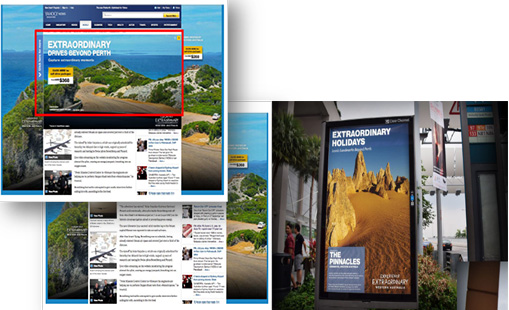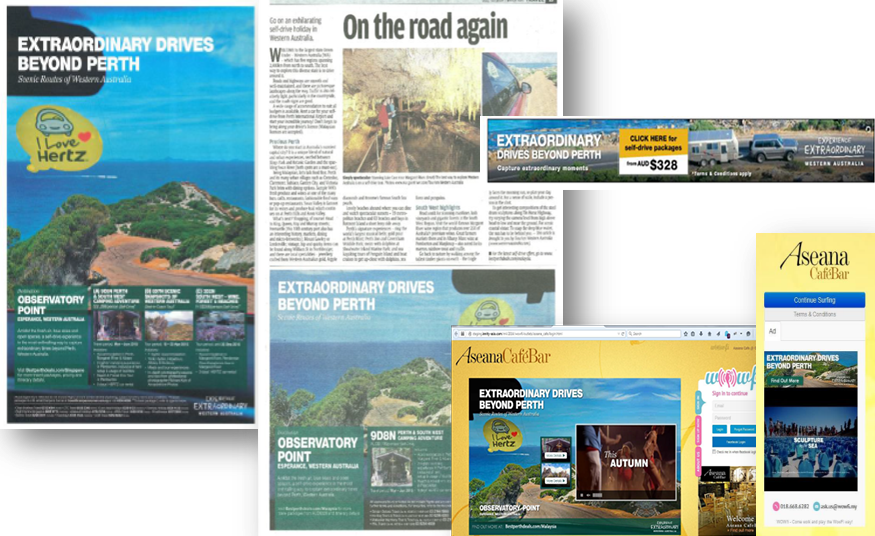 2014 Margaret River Gourmet Escape &
Gourmet Campaign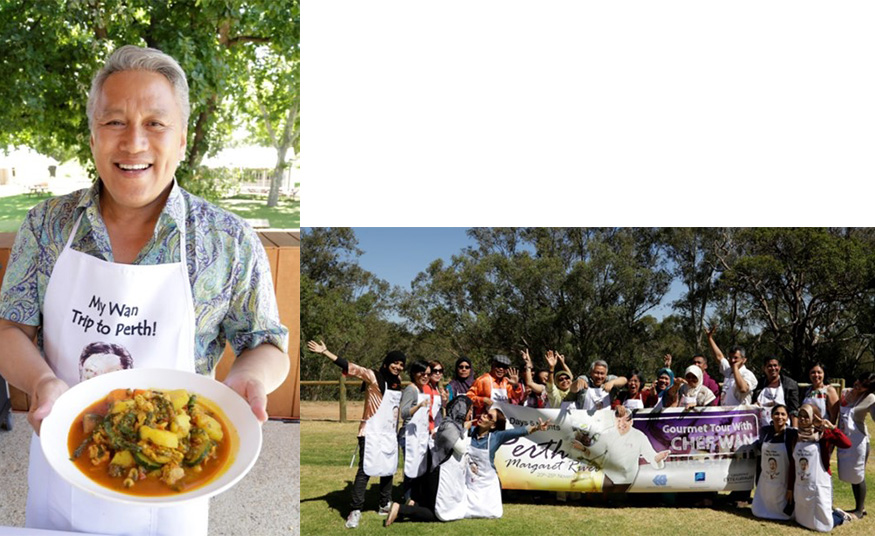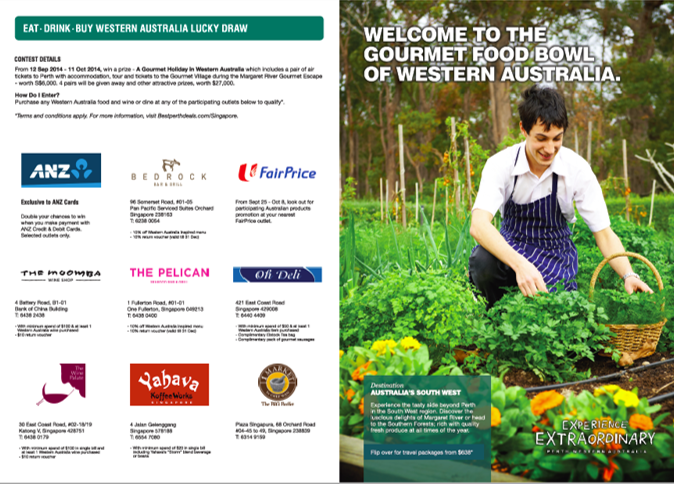 2014 Western Australia Gourmet Campaign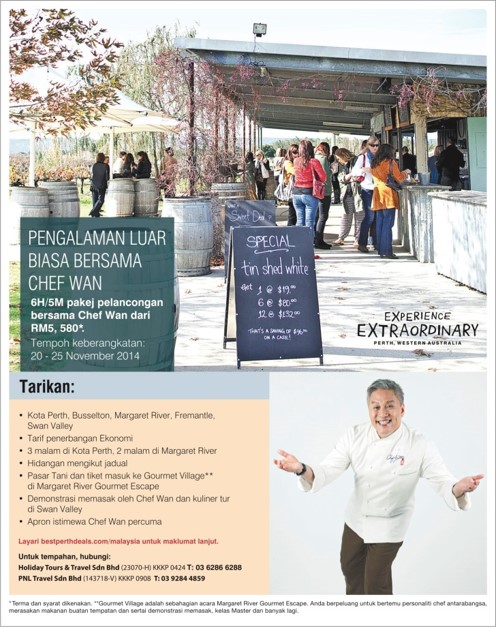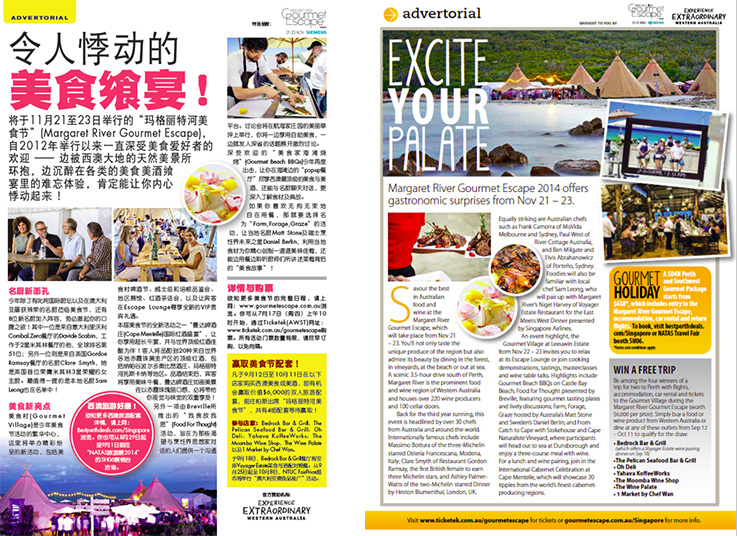 2014 Margaret River Gourmet Escape Campaign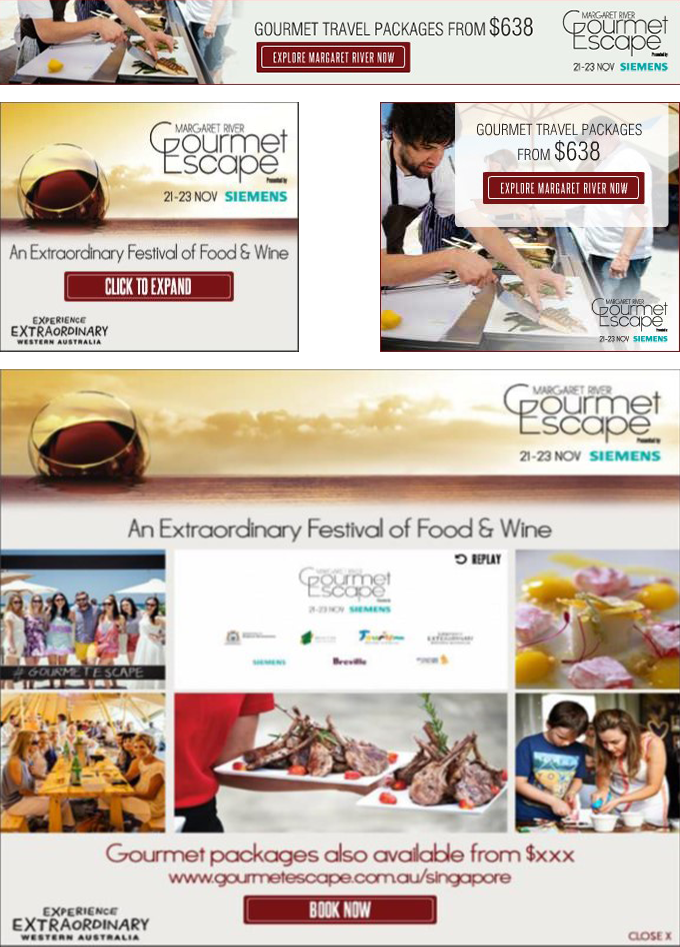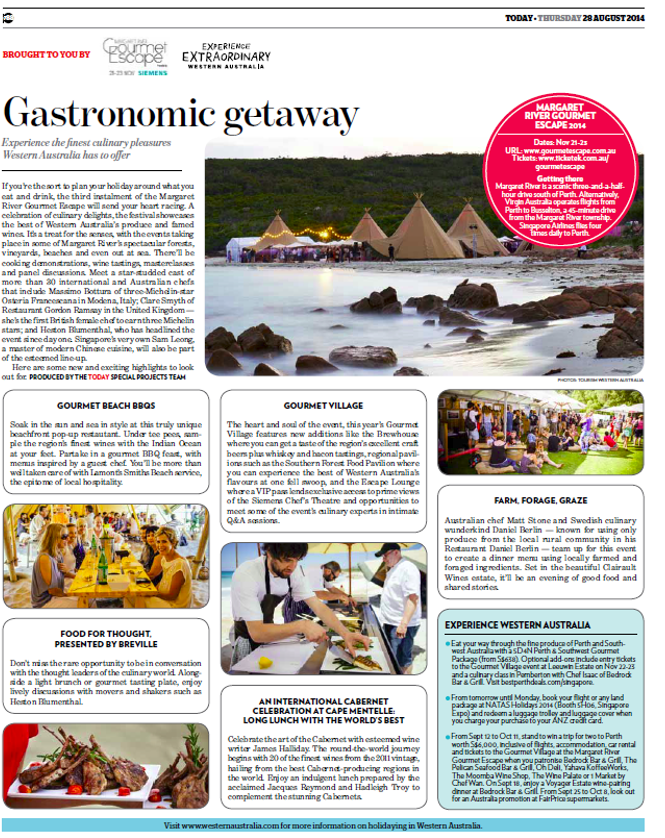 Perth Branding campaign, 2014
Markets: Singapore & Malaysia
Partners: Singapore Airlines, Air Asia X
And Travel Agents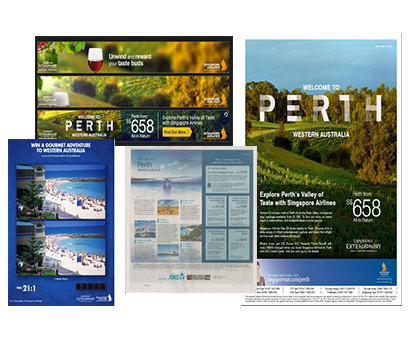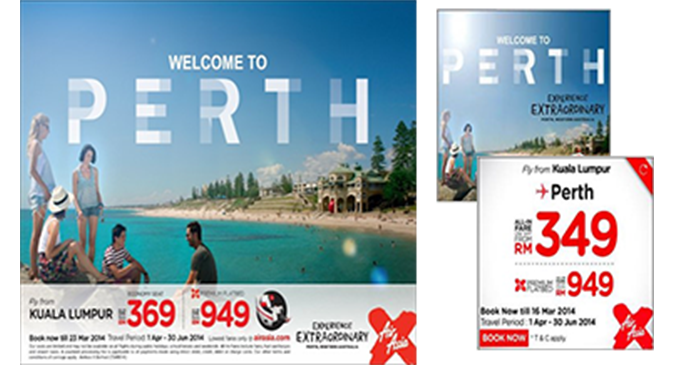 New Perth Branding Campaign
With Singapore Airlines – SINGAPORE AND MALAYSIA 2012-2013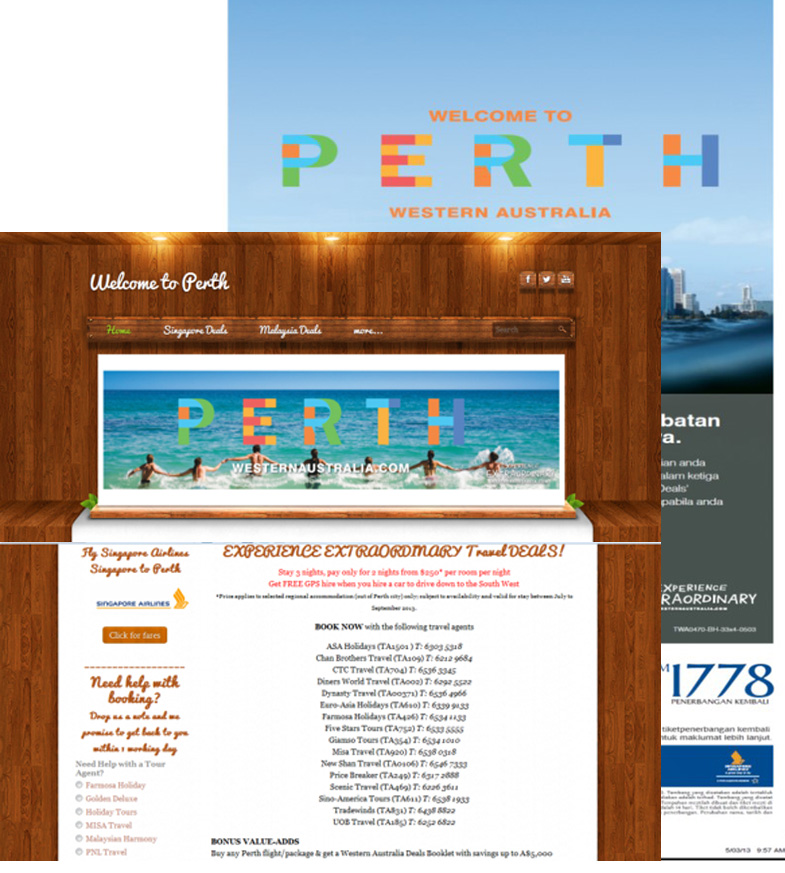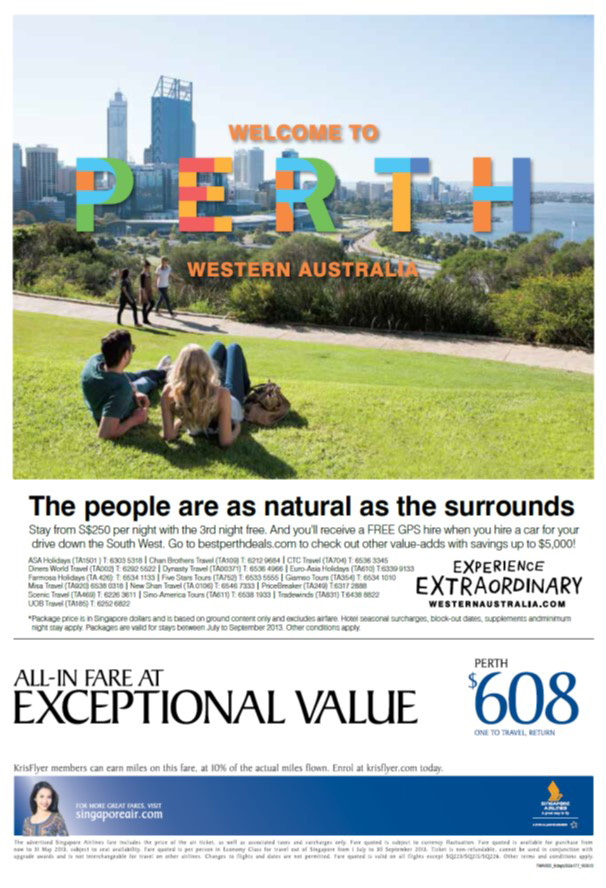 2013 Western Australia Gourmet Campaign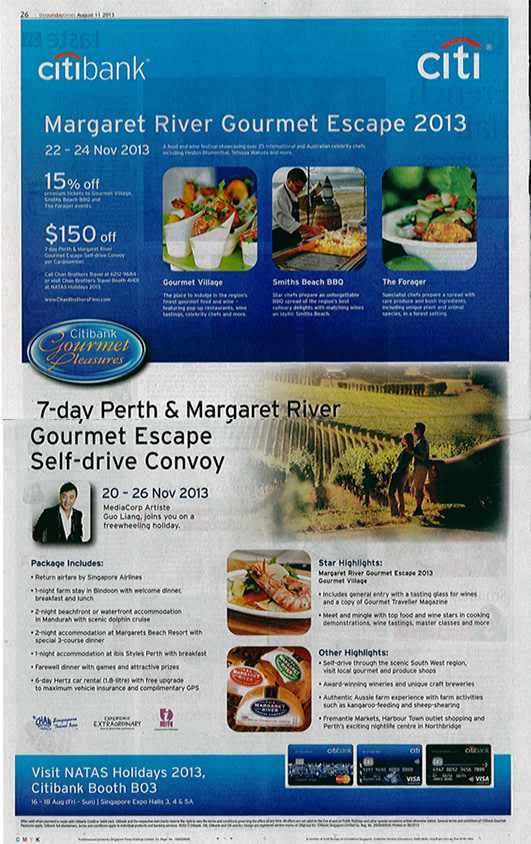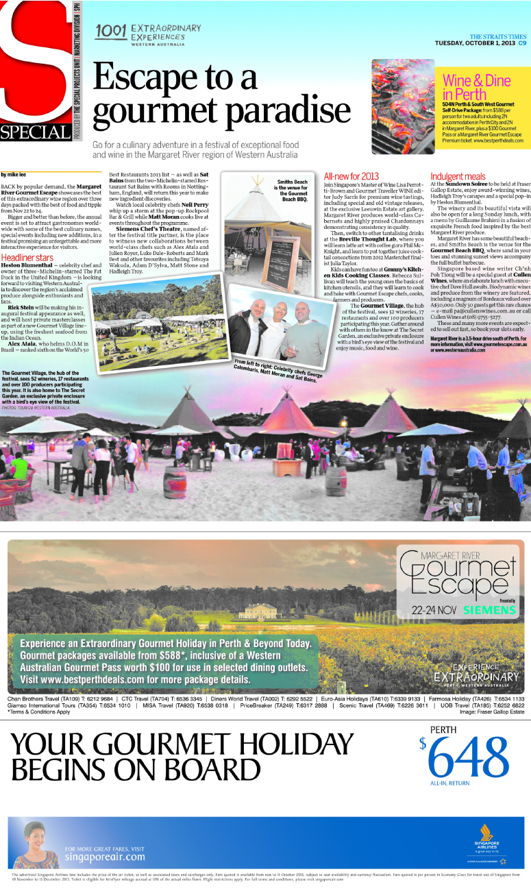 1001 Extraordinary Experiences in Western Australia, Photo Contest, 2013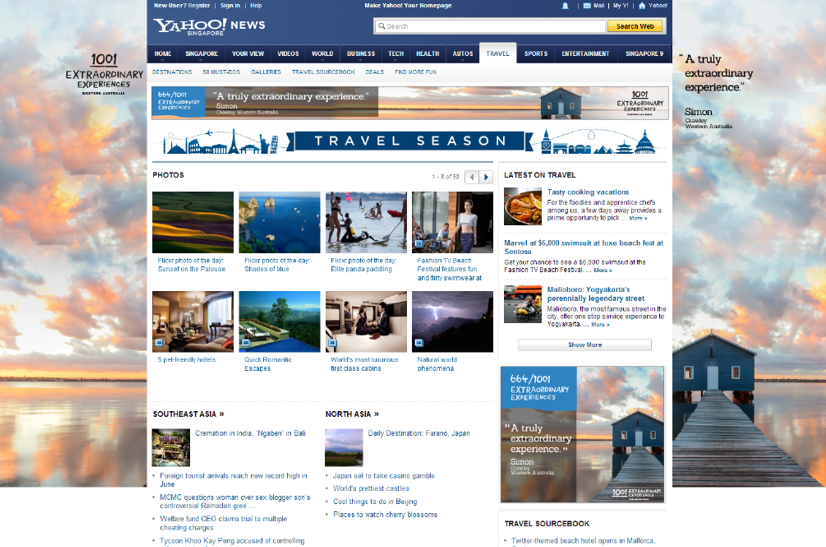 Western Australia Consumer campaign with NTUC Supermarkets, 2013, 2014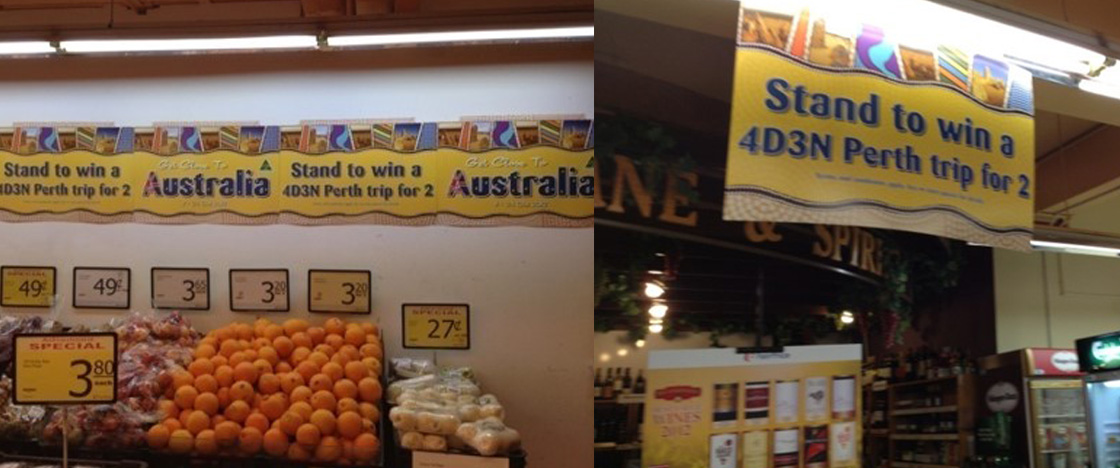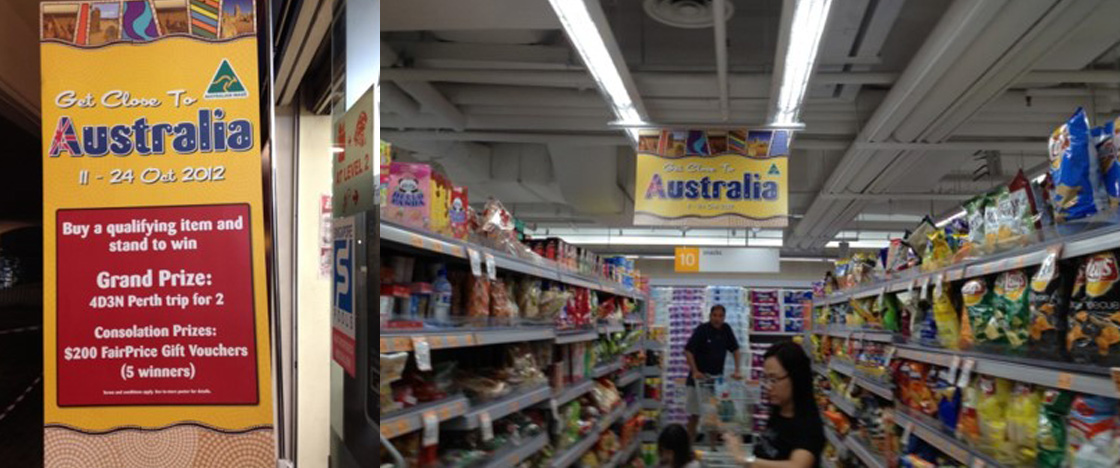 INDONESIA – Perth promotion with Smailing Tour, 2014
Print , Outdoor Advertising & Credit card promotion (BCA)
Consumer Travel Fairs – Smailing Tour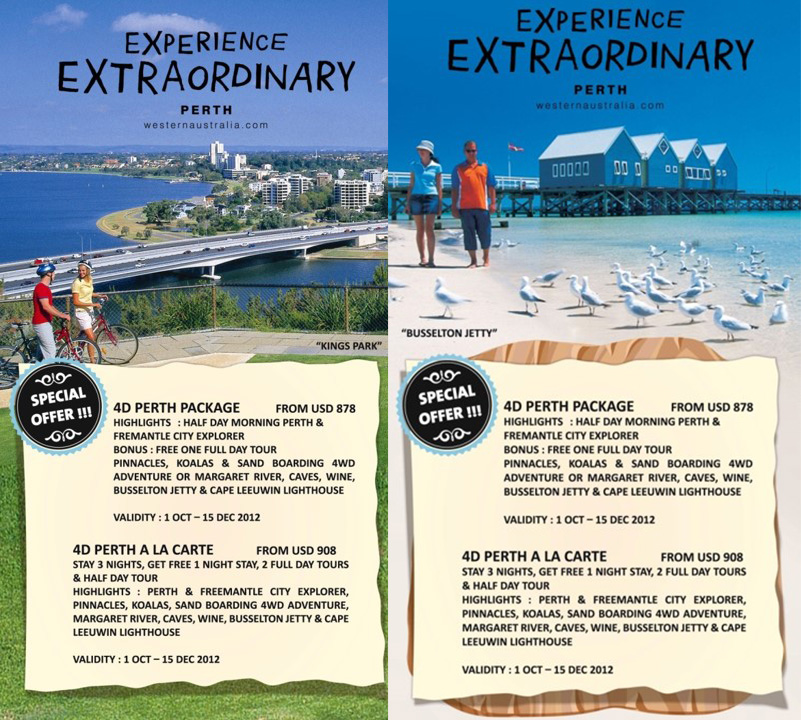 2010-2015 Western Australia Branding Campaigns,
Singapore, Malaysia and Indonesia
Perth Convention Bureau: MICE Campaign, 2011
Target audience: MICE travel agents, Destination and Events Management Companies and Corporates

Creative Personalized mailing to the Singapore Business Times Top Earners' List & CEOs
Print and Online Advertising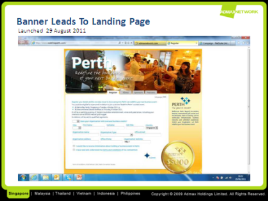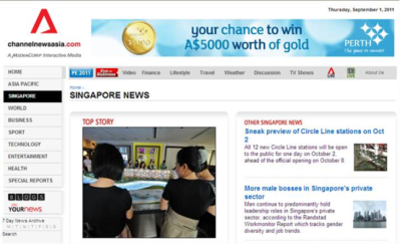 Extraordinary Taxi Ride Campaign
in Western Australia, 2010
Markets: Singapore and Malaysia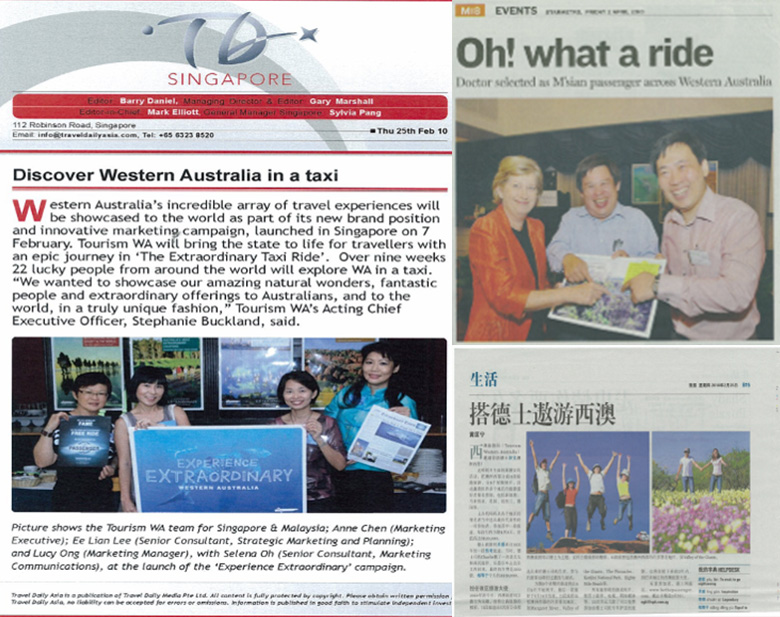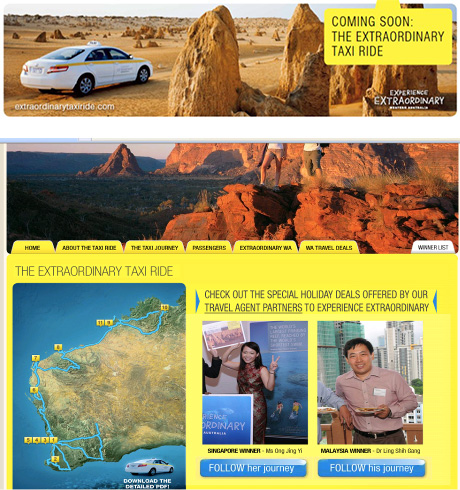 Colours of Canberra Campaign, 2006

Market: Singapore
Partners – Asiaone, Travel Agents, Marina Square Shopping Mall, Golden Village Cinema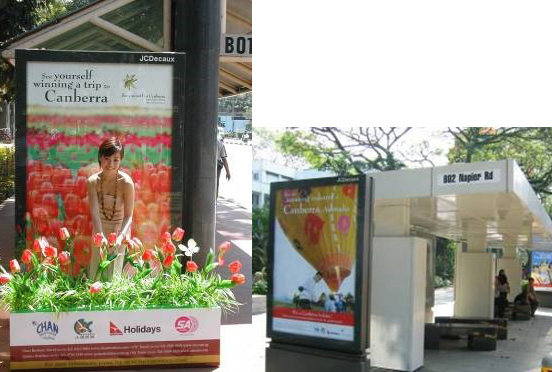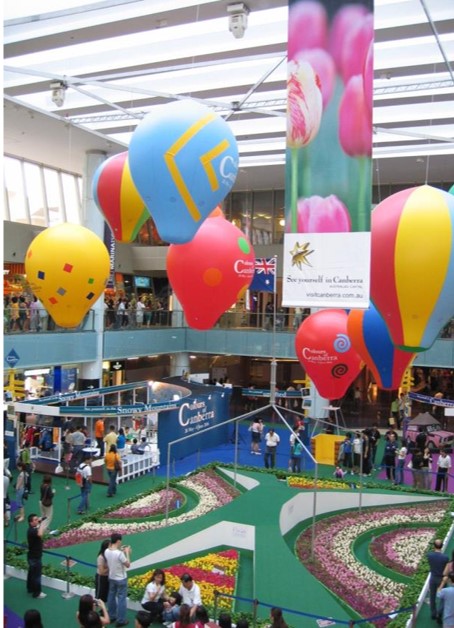 Public and Media Relations, 2005-2017
SINGAPORE, MALAYSIA AND INDONESIA
Magazines supplements, Editorial, Feature stories, Travelogues, Social Media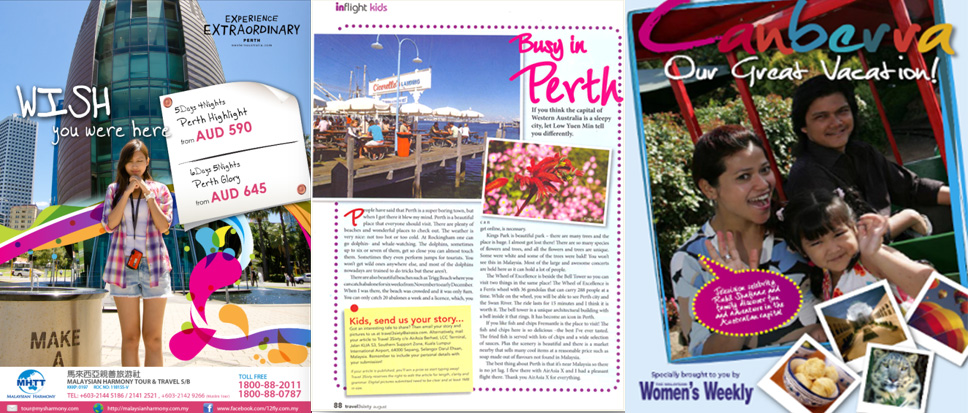 CONSUMER TRAVEL FAIRS
SINGAPORE, MALAYSIA, INDONESIA ,2010 to 2017

NATAS, MATTA, ASTINDO, Travel Agents and Airline Travel Fairs
Singapore, Malaysia, Indonesia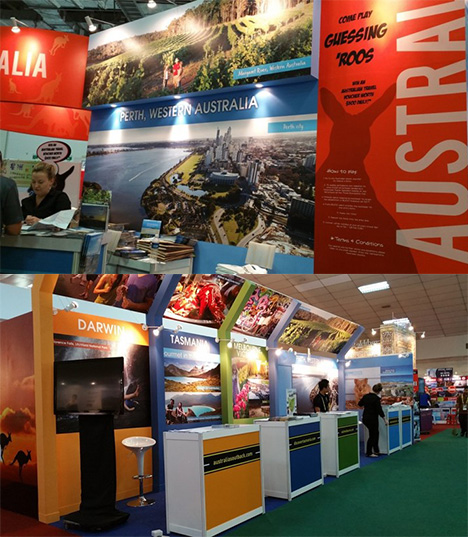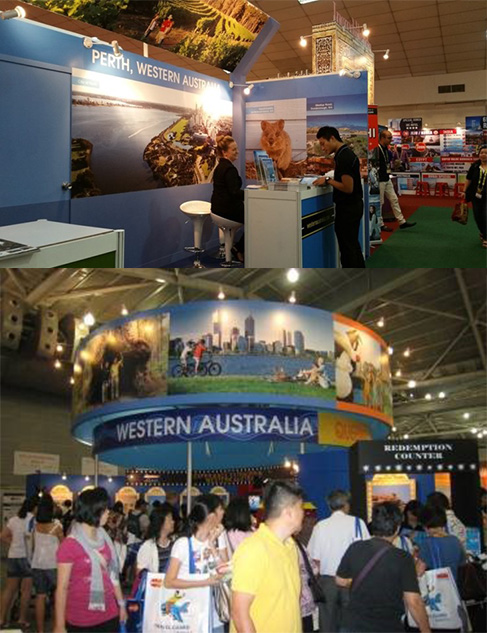 Airlines Co-op Campaigns, 2009 to 2017
Markets: Singapore, Malaysia, Indonesia
Partners – Singapore Airlines, Scoot, Air Aisa X. Qantas Airways, Jetstar, Garuda Airlines, Tiger Air, Malaysian Airlines, Malindo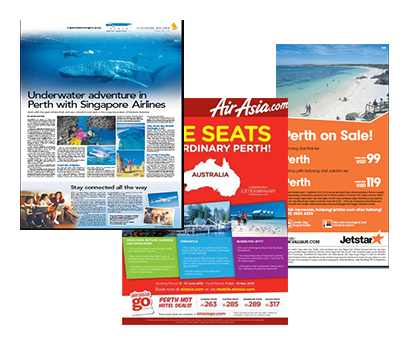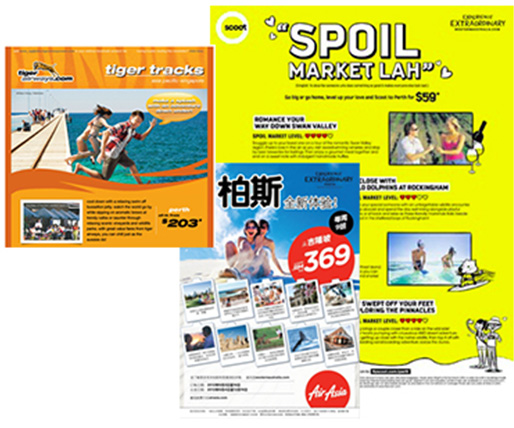 Tactical promotions with airlines and travel agents through
print, online and broadcast media, 2005 to2017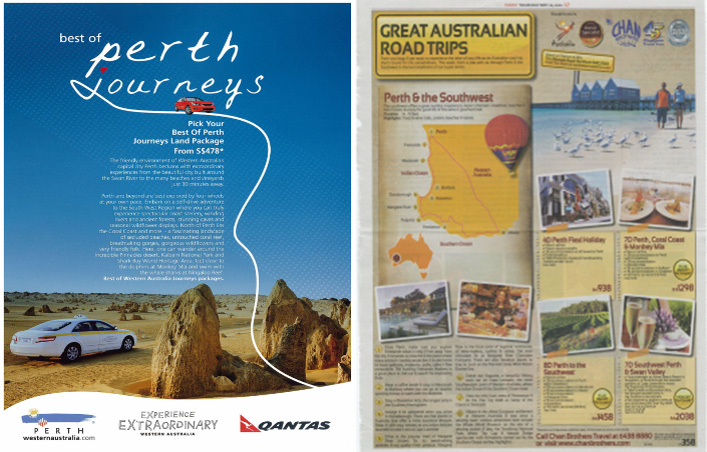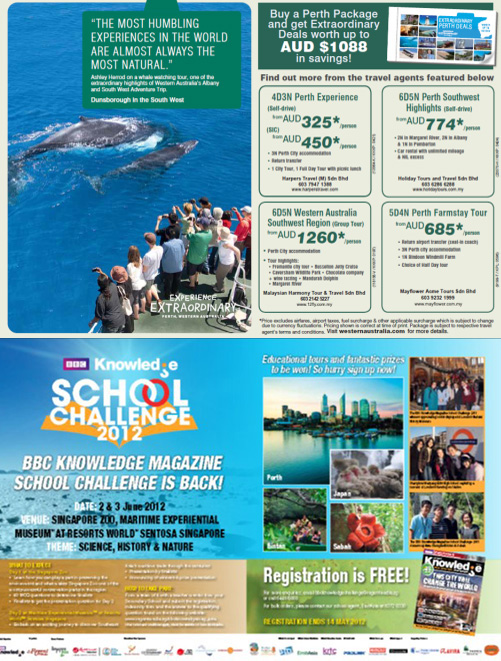 Trade and Public Relations Events,
Agents Workshop and training
Agent and Media Familiarization Programs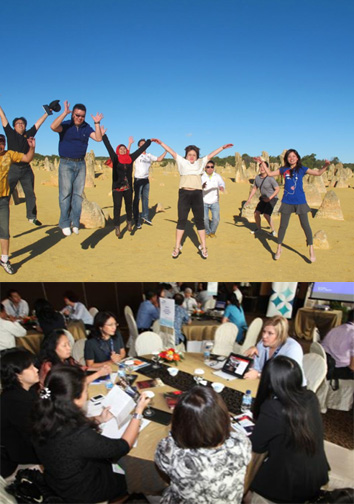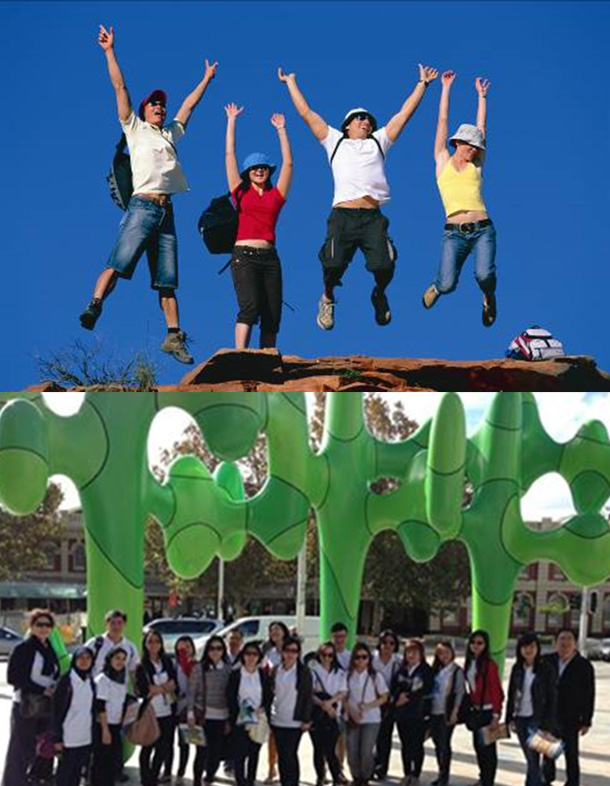 Trade and Public Relations Events,
Agents Familiarization Trips